The 14th Senate District stretches across the southern Central Valley, from Fresno to just south of Bakersfield and is home to 946,371 people. The district spans four counties: Kern, Tulare, Kings and Fresno, and is approximately 4,599 square miles. One-third of the nation's vegetables, and two-thirds of the nation's fruits and nuts are grown in California—mostly within the Central Valley.
The Central Valley is home to a diverse population, many people come from all over the world to live in the fastest growing region in California. The top three most spoken languages in the valley are: English, Spanish and Hmong.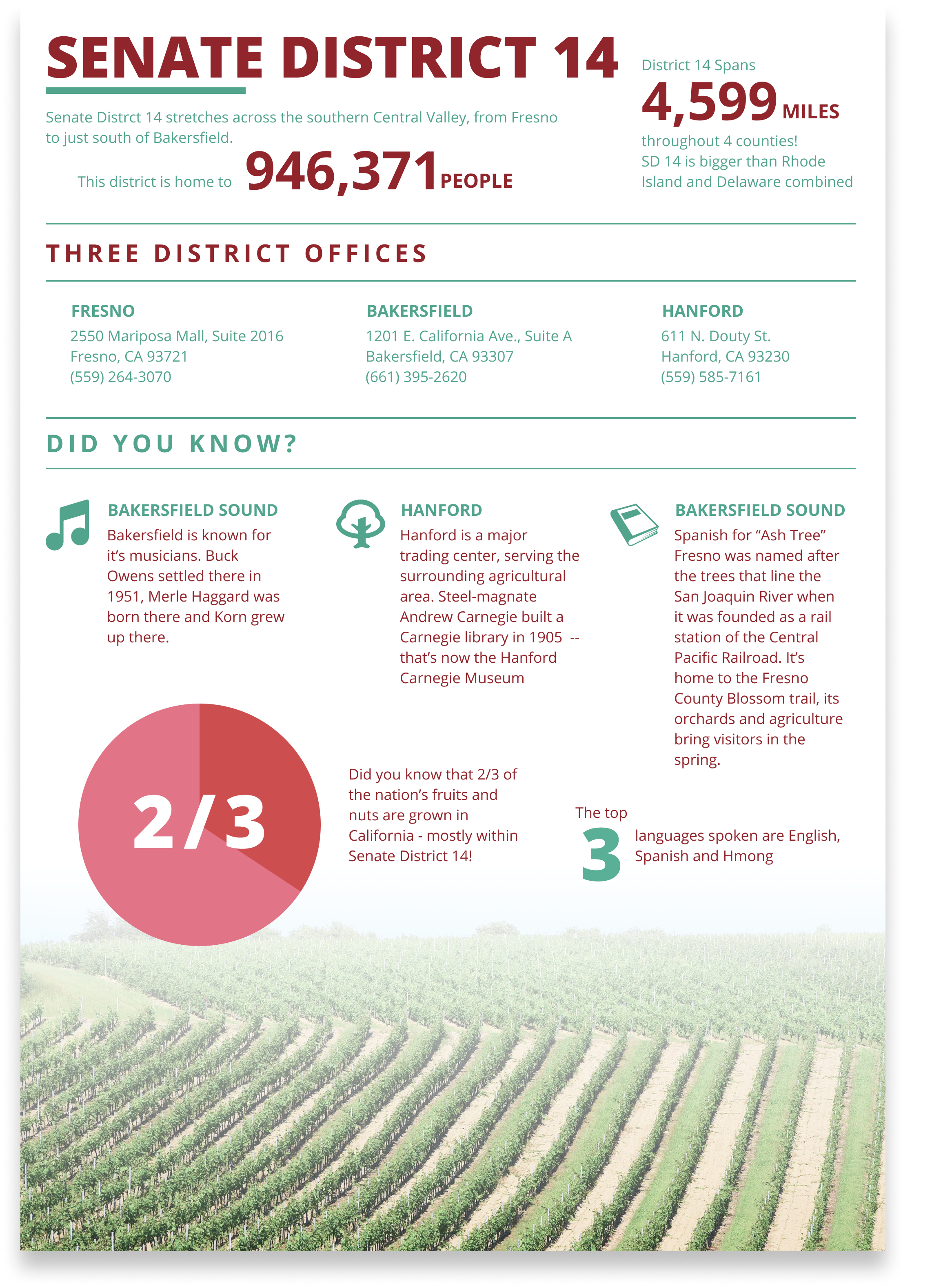 Bakersfield: The county seat and the largest city in Kern County, is a significant hub for both agriculture and energy production.  Bakersfield is known for its musicians—Buck Owens settled there in 1951, Merle Haggard was born there, and the band Korn grew up there.
Fresno: Spanish for "ash tree," Fresno was named after the trees that line the San Joaquin River when it was founded as a rail station of the Central Pacific Railroad. Home to the Fresno County Blossom trail, its orchards and agriculture bring visitors in the spring to look at the many blooming trees and plants.
Hanford: In 1893, upon the creation of Kings County, Hanford became the county seat. Hanford is a major trading center, which services the surrounding agricultural area. The Kings District Fair is traditionally held on four days in mid-June at the Kings Fairgrounds. The Hanford Carnegie Museum was built as a Carnegie Library, funded by steel-magnate Andrew Carnegie in 1905. It's since been renovated and reopened.