Saturday, August 31, 2019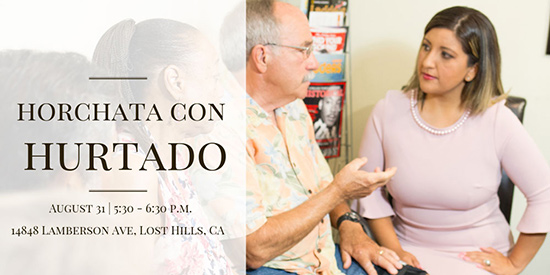 Dear Neighbors -
Join Senator Melissa Hurtado for some cookies and horchata in Lost Hills. Come and share your thoughts on legislation and issues affecting the community.

Senator Hurtado and her team will be available to answer questions and share how the district office can be of service to you.

For more information please contact Laura Melendez at (661) 395-2620 or at Laura.melendez@sen.ca.gov. 
 
Click here to RSVP.
---
Queridos Vecinos -
Acompaneme y disfrute de unas galletas y horchata en Lost Hills. Venga y comparta sus ideas sobre legislacion y temas que afectan a la comunidad. 

La Senadora y su equipo estaran disponibles para contester preguntas y compartir lo que su oficina puede hacer para usted. 

Para más información o para confirmar su asistencia, por favor de contactar a Laura Melendez al 661-395-2620 o laura.melendez@sen.ca.gov.
 
Click here to RSVP.