Hurtado Releases Statement After Holding Press Conference Pushing for Water Funding As Water is Rationed for Health and Safety
Media Contact: Michelle.Sherwood@sen.ca.gov
SACRAMENTO, CA – Today, Senator Melissa Hurtado (D-Sanger) released the following statement regarding her press conference urging funding in the legislative budget for Water Resiliency Funding. This request comes on the heels or water rations for health and safety:
 
"As communities across the state face water restrictions for health and safety needs, and drought profiteering is at an all-time high, it's critical we invest in our water infrastructure," said Senator Hurtado. "Those that want to profit off our water crisis, will drive rising costs of food, impacting those who are struggling the most. Investments in our water infrastructure—especially our water delivery systems--should have been made years ago, and with a historic budget surplus, there is no reason California cannot invest in our water future today. 31 million people rely on the California water conveyance systems to get clean, reliable water from the State Water Project and others, including 6 million in Southern California localities. Without these investments today, the consequences will be bad for us all. Funding SB 599 to repair or our water conveyance canals will help our state collect water in wet years, and move water, without massive losses, in dry years."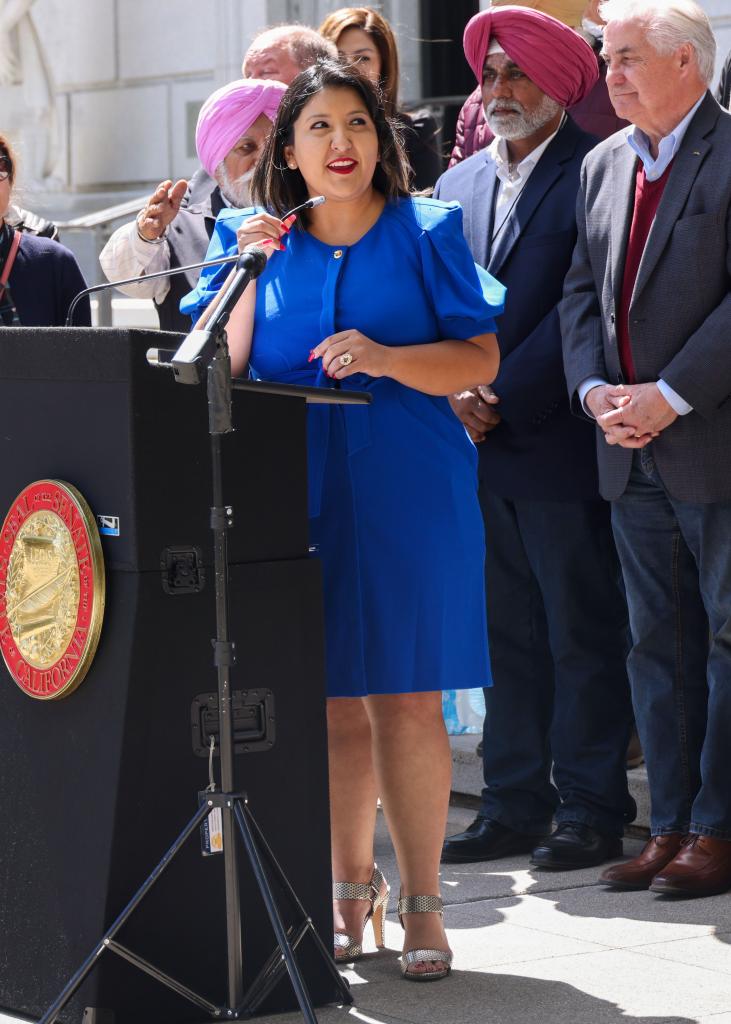 Figure 1: Senator Melissa Hurtado (D-Sanger) seen at her Fully Fund 559 Press Conference
Figure 2: Senator Melissa Hurtado (D-Sanger) seen at her Fully Fund 559 Press Conference, with the Punjabi American Growers Group, Asm. Jim Patterson, Alex Biering of Friant Water Authority and Asm. Devon Mathis
Senator Hurtado sent a letter to the Chairs of the Legislative Budget Committees urging them to consider her request for $300 million to invest in California's water infrastructure, and to expand on the existing investments to better prepare for future water resiliency. In his 2021 May Revise, Governor Gavin Newsom proposed $200 million to help repair the canals. In the budget ultimately adopted by the Legislature and signed by the Governor, $100 million was allocated to fixing the canals. An additional $100 million has been proposed in this year's budget.
Senate Bill 559—The State Water Resiliency Act of 2021—as introduced would have allocated $785 million to repair vital water delivery systems that provide drinking water to communities throughout California and to sustain the state's leading agricultural economy. The funds would have gone to fixing the Friant-Kern Canal, the Delta-Mendota Canal and major portions of the California Aqueduct, all of which have degraded and are losing water as a result of subsidence – the actual shrinking of land. Congressman Jim Costa and U.S. Senator Dianne Feinstein have companion legislation in Congress.
Senate Bill 559 passed out of the Appropriations Committee on August 26, 2021 with amendments that would place fund administration under the Department of Water Resources in consultation with the Department of Fish and Wildlife. Under these amendments, the departments would have to follow various guidelines and conduct studies in order for funding to be released and allocated. These requirements will further complicate the process and the fund disbursement, slowing construction on the State's water conveyance canals. Assembly Appropriations amendments also removed the intent language outlining where funding should be allocated, and deleted the specific funding allotments planned for in SB 559 as introduced.
About Senator Melissa Hurtado
Senator Melissa Hurtado represents a new generation of Latina leaders as the youngest woman ever elected to the California State Senate and a product of immigrant parents. Senator Hurtado represents the 14th Senate District and focuses on rural community issues that often go unheard — access to clean air and water, food insecurity and poverty, inequities in environmental policies, agriculture and access to health care. In July 2020, she was appointed to the national Biden Latino Leadership Committee alongside former Labor Secretary and current Los Angeles County Supervisor Hilda Solis – the only two California Latinas on the Committee.
For more information, visit Senator Hurtado's Website here or find her on Twitter at @Senator_Hurtado
###