Dear Neighbors -
Senator Melissa Hurtado and  Senator Holly Mitchell  invite you to the next Senate Select Committee on the Social Determinants of Children's Well-Being hearing scheduled for Monday, July 15th in the City of Fresno. The Select Committee was created and chaired by Senator Mitchell to examine the conditions in which people are born, grow, work, and age, and how those conditions impact their well-being. The hearing will be focused on the healthcare workforce shortage and social determinants of health in the Central Valley. 
Monday, July 15, 2019
10:00 a.m. - 12:30 p.m. 
Fresno City Hall
Council Chambers, Second Floor
2600 Fresno St, Fresno, CA 93721
Metered Street Parking is Available
RSVP's: Call (559) 264-3070 or RSVP here [2]
Interpretation services is available in Spanish, Hmong, Zapoteco, and Mixteco.
The first hearing of the Select Committee, which introduced the Committee's work and then focused on the issue of housing and homelessness, click here to view [3].
For more information, call (559) 264-3070.
---
Queridos Vecinos -
 La Senadora Melissa Hurtado y la Senadora Holly J. Mitchell los invitan a la próxima audiencia del comité selecto del Senado sobre los Determinantes Sociales del Bienestar Infantil programada para el lunes 15 de julio en la ciudad de Fresno. El Comité Selecto fue creado y presidido por la Senadora Mitchell para examinar las condiciones en las cuales la gente nace, crece, trabaja, y envejece, y cómo esas condiciones afectan a su bienestar. La audiencia se centrará en la falta de personal de salud y los determinantes sociales de la salud en el Valle Central.
Lunes, 15 de julio del 2019
10:00 a.m. - 12:30 p.m. 
Oficina del Ayuntamiento de Fresno
Cámaras del consejo, Segundo Piso
2600 Fresno St, Fresno, CA 93721
Estacionamiento en la calle con medidor estará disponible 
Protocolo de Reserva: 
(559) 264-3070 / presione aquí [2]
Servicio de Interpretación disponible: Español, Hmong, Zapoteco, y Mixteco 
La primera audiencia del comité selecto, introdujo el trabajo del comité y después se concentró en los temas de alojamiento y la falta de vivienda, aquí puede ver el video. [3]
Para más información, llame al (559) 264-3070.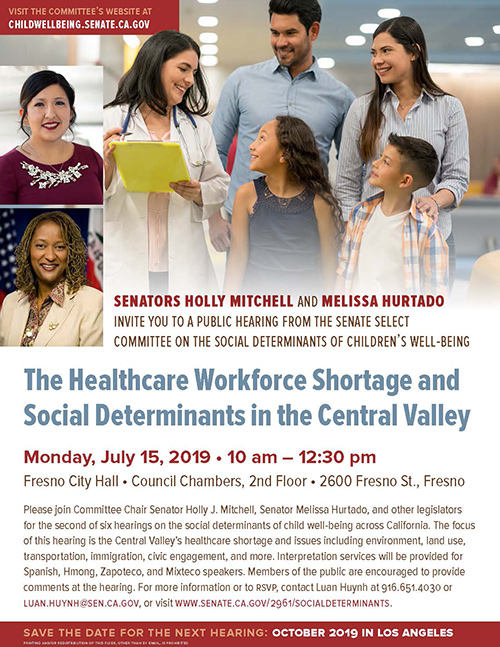 [4]
Download Flyer [4]